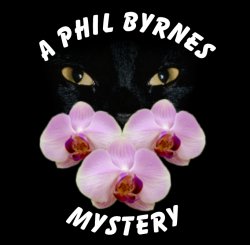 About Phil Byrnes, "Debutante, Noir…"
The first episode of "A Phil Byrnes Mystery" was written almost 15 years ago. A "pass" by a local radio producer landed the story in the back of a file cabinet. There it remained, unseen, but not unheard. Its author, Sable Jak, explains, "Phil kept talking to me. Every now and then over the past few years a snip of dialogue would pass through my mind, or a scene would pop up. I'd make a few notes and drop them in the file at the back of the cabinet. I knew someday I'd find something to work with."
Enter an actor friend who not only was recording radio drama, but was an active member in the local radio drama club. He knew Sable wrote for TV and film and suggested she write for radio. Her response was basically, "Funny you should mention that…."
She pulled out the script, updated it to present day and handed it over to her friend. They had a brief push and pull discussion about whether or not the "style" which is decidedly "noirish" had to be placed in the 40's or 50's and Sable refused to budge, stating that "noir" worked in any era. Sable won the discussion. A few more changes were made so that the script was more "radio" style and then actors were gathered for a live performance of "Debutante In Danger" at the local radio club meeting.
The rest, as they say, was history. There are 7 episodes to date. Three you'll be hearing here at virtuallyamerican.com Two episodes, recorded with Jim Byrnes of The Highlander TV series are in editing (and will remain there until funding is found), and two other episodes have yet to go before the mic.
But here, for your enjoyment, are the first 3 episodes of "A Phil Byrnes Mystery".
Testimonials
"We both enjoyed the listen and definitely feel there's a potential star character in "Phil". She's a confident, cerebral and enticing character that likens to Angela Lansbury's character "Jessica" on "Murder She Wrote" but with a younger audience….." Thank you for the listen and we wish you continued success with the show!"
 
Samuel Goldwyn Jr. and Julie E. Huey, Development, Samuel Goldwyn Films.