Track Listing
1.Galapago Girl
2. Southwest of Somewhere
3. Going Home
4. These Two
5. Nothin' But Love
6. The Source
7. Stable Dawn
8. Love Me Slow
9. All Your Love is So Near
10. Love Equals a Painted HalfLinger
11. Emma
12. Fools Parade
Alan Lee – Going Home
Alan Lee is a Toronto-based singer/songwriter. He was the co-founder and lead singer of Longstreet Crossing, a Toronto folk trio that performed in the early to mid-nineties. As a songwriter and lead guitarist, he was featured on their 1995 album. These days, Alan pursues a full-time career as both an actor and a musician.
Story
In the back street of the city that I used to live in, rose a star so bright to be blinding. Now I remember your smile that night. La, da, La, da, da, da" the alley cats sang, chewing on bones, thrown out by the nine fingered chef. "Go home!" he yells at them. The look on their faces reminds me of you, thrown out with the trash, and that star cries Lucy and weeps as it begins to fall. I was wrong blaming it all on the sky, some of it comes from below, fast like hatred, unlike love which is slow. Sobering up those fat cats, chase a painted horse down 22nd Street. Pass a band playing pots and pans like children do. I run out of the alley just in time to see the sun rise on a fool waking up.
Thank you . . .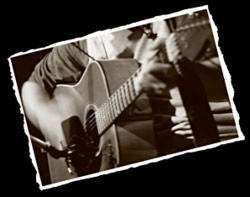 This album could not have been completed without the talents and energy of so many. Thanks to all my musicians who played more the role of magicians in their parts played out here. All your magic is so near. A special thanks to our families and friends, to Mom and Dad, Kerri and Kev, and the Hannas: all your support has been colossal. Thanks to all the folks at VirtuallyAmerican.com for helping us "get it out there". Also to Dave Misener at Blank Spaces Recording Studios for salvaging these sounds and creating a great mix. Thanks to Jesse and Mike for teaching me how to make an album, to G. for overseeing the whole process with superb wit and wisdom, to all the friends and friendly neighbours in the beach. Lastly, to all those who continue to encourage and support my work.
Lots of love, Al.
The Band: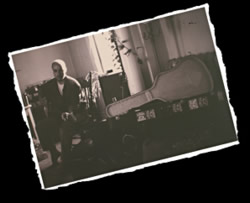 Alan Lee: guitar, vocals, harmonica, keyboards, banjo, percussion
Jesse Hanna: bass, drums, keyboards, percussion, additional arrangements
Mike Proulx: guitars
Devrim Eldelekli: guitar
Kevin Treffinger: guitar
Nikki Benton: mandolin
Mate Kais: drums
Evan Middleton: percussion
Janice Hawke: backing vocals
All songs written by Alan Lee
Produced by Alan Lee and Jesse Hanna
Recorded at Studio 81 and Cabin Fever Studio
Mixed at Cabin Fever Studio
Engineered by Jesse Hanna and Alan Lee
Assistant Engineer: Mike Proulx
Mastered by Dave Misener at Blank Spaces Recording Studios
Cover photo: Ann Zephyr
Additional photos: Ann Zephyr and Elena Radic
Design: Craig Norris
Management: Nukidz Artist Management (416) 531-3951
Alan Lee can be contacted at www.alanlee.ca