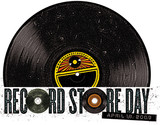 Okay…due to us still putting together the webpages for our first audio comic, a supernatural western called The Darrin Chronicles, we did not get around to assembling a Record Store Day show this year. In honor of that most hallowed of days which occurs on Saturday April 16th, we have cracked open the vault to bring you the 2013 version of the show.
Stay tuned though, cause we will be finally get around to unleashing our brand new show format in May! Chock full of lots of little tidbits to get you ready for the big day, this episode is coming to you completely untouched and still in its vintage state for you to enjoy.
See you next time and remember to be careful out there. Dress warm and make sure those elbow pads are secure for that dash to the cash register at the end of the day.
J Hoskins